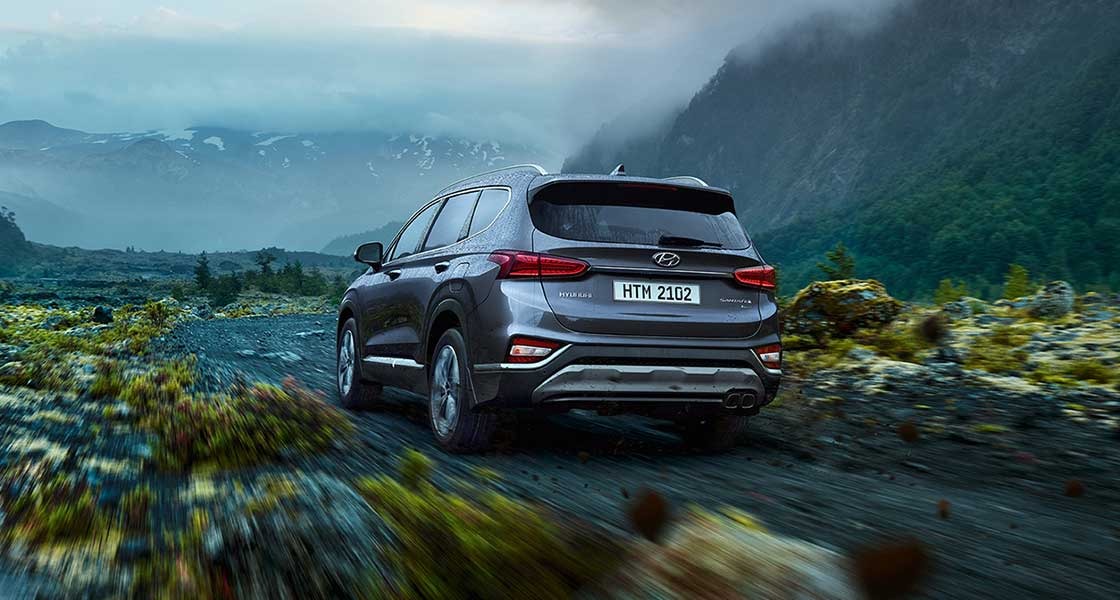 Best road trip cars
We are hearing the term 'road trip' being mentioned a lot more in recent years, although it's often heard in American movies.
A road trip is essentially a long-distance trip taken in a vehicle on the road, as opposed to taking conventional public transport such as trains and aeroplanes.
Road trips can be incredibly fun when organised properly and they allow you to see much more of the country that you would if you were using public transport.
Benefits of taking a road trip
You are not tied down
One of the main benefits of taking a road trip is that you are not tied down to certain departure times or even worse, a victim of delays. You can arrange your own schedule and even deviate if you want, without repercussions. You are free to take refreshment breaks as and when you like.
You can see more
If you decide to travel by aeroplane or train, you usually don't get to see any other parts of the town, city or country you are visiting. When taking a road trip, you can navigate off the beaten track and discover some untouched areas of outstanding beauty.
It's much cheaper
Road trips can be a cost effective way to travel as you can fit up to 5 adults in a conventional car, as well as their luggage, so there's no baggage fees or expensive air fares to factor in. Fuel costs considerably less in a vehicle and there's always ways to find cheaper petrol or diesel when you are planning your journey.
By planning your road trip, you can benefit from lower accommodation costs which often come with advanced bookings as well as finding free parking at your destination.
You can be spontaneous
If you are a spontaneous traveller, road trips may be the best option for you. Road trips can be as little or as much effort as you like, from deciding where you are going on the morning you depart to planning meticulously months before you leave.
You can see new places
One of the best things about taking road trips is that you can see new places freely. In the UK, we're lucky enough to have mainland Europe within reaching distance as well as plenty of transport options to get us onto the continent.
There are a range of ferry routes that run regularly from the North or South of England as well as the Channel Tunnel.
EU road rules
On the topic of driving to Europe, it's important to understand the rules and driving laws of any country you are planning to visit. Things to consider:
Check your insurance covers you and your vehicle
You may need an EU drivers pack (headlight stickers etc)
Check if you need an International Driving Permit (IDP)
Best small car for road trips
If taking regular road trips around the UK and you aren't travelling as part of a family, you may want to consider a small car for your road trip adventures. Smaller cars are generally cheaper to run, produce fewer emissions and use less fuel, so may be the most economical option for you.
There are a range of smaller cars suitable for road trips, with plenty of cabin space for passengers as well as boot space for luggage.
Hyundai i10
The Hyundai i10 has been redesigned to be more spacious than ever before, without losing the compact appeal. The 252 litre boot space is more than enough for backpacks or a medium sized suitcase, refreshments and any emergency equipment you are likely to need to take on your trip.
For long journeys, there is a wide range of entertainment options (SE model upward), including an 8" touchscreen with smartphone integration, Apple CarPlay & Android Auto as well as wireless charging and Bluelink in the Premium models.
If you happen to be travelling with a young child, the ISOFIX points make connecting a car seat easy and safe.
The Hyundai i10 also comes in a wide range of colour options, including Aqua Turquoise, Phantom Black and Dragon Red.
Hyundai i20
A slightly larger model, but still a compact hatchback in comparison to other cars in the range, the Hyundai i20 has that additional space you might need for luggage or just to offer more space to your passengers.
There is also the option to choose the hybrid technology, which allows you to switch seamlessly between economical driving for short journeys to utilising the conventional petrol engine on longer journeys.
The design of the i20 has a striking design, with LED headlights and 17" alloy wheels (on Premium and Ultimate models). If you opt for the Ultimate model, you can benefit from a 10.25" digital cockpit and either an 8" or a 10.25" touchscreen.
The 352 litre boot space is among the largest in its class, offering plenty of room to transport luggage, refreshments and emergency kit.
The ISOFIX points, which can be found on the outermost rear seats, make it easy and safe to transport young children in car seats.
Best car for larger families
If you are likely to be making regular trips with the family, you will need to ensure your car is equipped for travelling with the whole family, which means having enough space and plenty of safety features.
A large family car or SUV would be most suitable for long road trips, as comfort will be of utmost importance to your passengers.
Hyundai Kona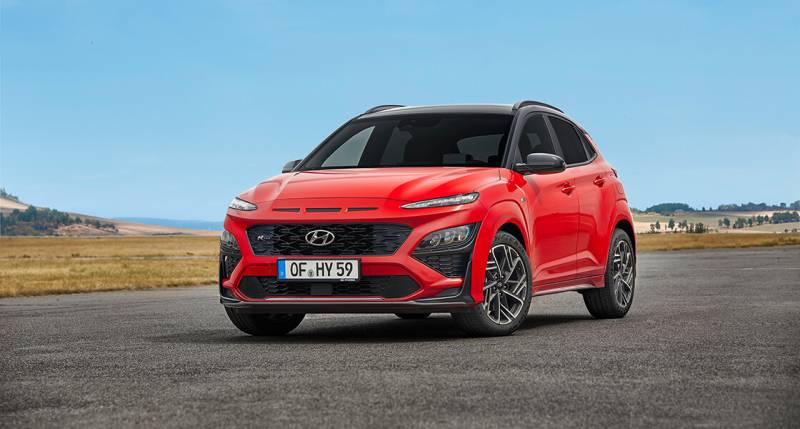 Starting with one of the more compact SUV's in the range, the Hyundai Kona is incredibly stylish, packed with safety features and ready for adventures.
The Kona has a 361 litre boot space, suitable for packing plenty of luggage and other necessities on your trips.
The cabin area is spacious enough for 3 adults or 2 ISOFIX car seats to travel in the rear row. If you are travelling with younger children, you could benefit from the Smart Keyless Entry feature that comes as standard on the Premium models. This feature is great if you find your hands are often full carrying shopping or luggage.
The technology in the Hyundai Kona includes wireless charging, an 8" touchscreen and Apple CarPlay & Android Auto, keeping you connected on your journeys.
There are also a wide range of safety features that come as standard with the Kona, including Lane Keep Assist, Blind Spot Detection and cruise control.
Hyundai Tucson
If you are looking for additional space, but still don't need the largest model in the range, the Hyundai Tucson is perfect for outdoor adventures that might take you off the beaten track.
The Terrain Mode selector optimises the all-wheel drive for any terrain, so you are free to travel to all corners of the country.
The Tucson offers an incredible 620 litre boot space (petrol model) so there will be no worries about what you can take with you on your travels.
If you decide to opt for the SE Connect, Ultimate or Premium trims, you can benefit from a wide range of technology including 10.25" touchscreen, Apple CarPlay and Android Auto, keyless entry and a parking camera to name a few. The Ultimate model also comes with Smart Electric Tailgate for easy access to the boot space, especially when your hands are full.
The design of the Hyundai Tucson is incredibly stylish and assertive. With 18" or 19" alloys and Black Leather Seat Trim, the Tucson is sure to turn heads.
Preparing your car for a road trip
If you are thinking of taking a road trip, you will want to prepare your vehicle for a long journey to prevent any unwanted or costly issues from arising.
Regular car servicing means potential issues can be caught before they become a much bigger issue that could inevitably become costly or inconvenient.
Ideally, your car should be serviced once every year as a minimum, but also if you are planning a long trip where you are likely to be away for a few days or even weeks.
It's also important to ensure you carry an emergency pack, including first aid kit, hazard sign, towels and bottled water in case you break down in a remote area.
Remember to complete some important checks before you set off:
Fill up screen wash
Ensure water and oil levels are correct
Check tyre pressure
Check your breakdown cover
Car maintenance after road trip
When you return from your road trip, there are a few checks you can do to make sure the car is running smoothly and ready to return to normal day-to-day routine:
Check tyre pressure

Full up screen wash
Remove any unwanted luggage that may weigh the car down
Staying safe on a road trip
When you are away from home and spending a lot of time in the car, there are precautions you can take to stay safe on your trip:
Make sure your first aid kit is adequate
Pack plenty of liquids and refreshments
Make sure your satellite navigation is working to prevent going off course
Make sure people know where you are and when you expect you home
Pack an emergency kit

Hazard symbol
First aid kit
Mobile phone charger
Latest News