Car Servicing, MOT & Parts in Everton, Lymington, Hampshire
Expert knowledge and advice from people that you can trust in the Hampshire region.
Rest assured that your vehicle is safe and roadworthy

Many years of experience and expertise

We only use manufacturer approved parts

Choosing the right company can save you money

Hundreds of satisfied customers can't be wrong
Reliable Car Servicing, Lymington, Hampshire
Here at Everton Garage, our Hampshire car service department offers honest and affordable car servicing and we ensure that our technicians and engineers are trained to the highest level in order to solve any problem you may have with your vehicle.
Whatever the vehicle, make or model, Everton Garage offer quality car servicing at competitive prices. Our team of highly-qualified auto-mechanics provide thorough vehicle road safety inspections, using up-to-date equipment and parts to keep your car in the best condition.
Regular car servicing may be required as part of your purchase contract, but even if not, your car shoul be services at the very least, once every 18 months. There are different teirs of servicing to suit your needs, from a basic service to a full service. If you are planning on doing a long journey, or the weather is changing, it might be time to bring your car in for a once over.
Our high standards are echoed by our qualified and knowledgeable servicing team who will provide you with the best possible service.
Regular car servicing can have a multitude of benefits, aside from just keeping your car healthy and running seamlessly.
It is very much a case of 'prevention is better than the cure', so ensuring your car is running to optimum performance, before any issues occur that could become expensive to remedy in the long run.
What is car servicing
Let's first discuss what a car service is, so you can understand the importance.
Car servicing is not a legal requirement like an MOT is, but it should be considered annually much like an MOT.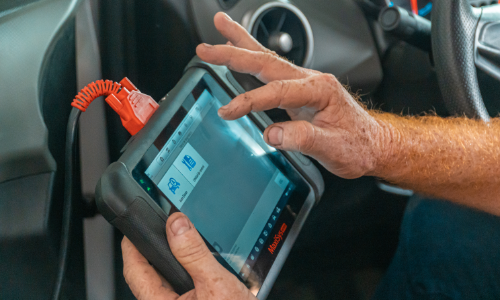 Easy Booking System
Our convenient booking system removes the need for you to call or visit us. Just enter your vehicle registration and mileage with your contact details, then book a date and time from the range of available appointments.
You can use the booking feature 24 hours a day, 7 days a week, regardless of opening hours.
Book Your Car Service Online
Please fill out the form about your enquiry, and we will get back to you as soon as we can.
What is included in a car service
There are usually two levels of car service available; interim service and a full service. Each of these servicing packages will cover different aspects, but the general rule of thumb is an interim service should occur every 6 months and a full service once per year.
Interim Service
An interim service will generally include the following checks and enhancements:
Check fuel filter
Oil change
Replacement oil filter
Coolant top up
Fuel filter check
Check clutch operation
Check gearbox operation
Check brake pads for wear
Full Service
A full service will involve more comprehensive checks which include everything in an interim service, with the addition of:
Check coolant hoses
Check cooling fan
Replace air filter
Top up gearbox fluid
Top up battery
Benefits of regular car servicing
Keeps the internal components healthy
With regular maintenance, the internal parts are kept in good working order, meaning they are less likely to go wrong. When they do go wrong, they can be very costly, so servicing your car regularly can actually be better in the long run.
You car will run more efficiently
When the internal components are running smoothly, they will be much more efficient and use less fuel, therefore keeping your costs down. For example, tyres that have less tread are less efficient and therefore cost you more fuel in the long run.
It's easier to sell the car
When the time comes to sell your car and upgrade to a newer model, if you have an up-to-date service book, this can make the process much easier and you are likely to receive a better valuation for your car. Without an up-to-date service book, the condition of your cars internal parts could be poor.
The difference between an MOT and a service
As previously mentioned, an MOT is a legal requirement, whereas a car service is not. An MOT is a series of checkboxes that provide a pass or fail depending on the condition of your car. A car service is more of an optimisation, looking for ways to make your car more efficient and to prevent any unwanted breakdowns or problems occurring.
There are many things an MOT won't cover as it only checks that the vehicle is in a roadworthy condition.
MOT Testing in Lymington, Hampshire
Here at Everton Garage in Lymington, Hampshire, we have an MOT centre located within our Hyundai Retailer, but we can MOT all makes and models of car, not just Hyundai models.
An MOT test is a legal requirement and you will need to put your vehicle through the test once per year, as long as you don't have a brand new car, top ensure it is roadworthy and does not pose a danger to you or other road users.
The MOT will check for a number of things, including:
Steering and suspension
Brakes
Tyres
Seatbelts
Lights
Exhaust system
Mirrors, windscreen and wipers
We can provide MOT to those in the local areas, including Everton, Milford on Sea, Barton on Sea, Brockenhurst, Beaulieu and Buckland.
When is my MOT due?
If you are unsure when your MOT is due, you can check the status of your existing MOT to see when it runs out. You will need to book your car in for its MOT in plenty of time of your current certificate expiring, so we recommend booking it at least 2 weeks in advance, so you can get a slot close to the expiry date.
How long does an MOT test take?
An MOT test takes around 1 hour to complete so you can leave your car with us during the test and collect once we tell you your vehicle has passed its MOT.
Book Your MOT Online
Please fill out the form about your enquiry, and we will get back to you as soon as we can.
Quality Hyundai Car Parts
Everton Garage are your local Hyundai Retailer based in Lymington, Hampshire for all genuine Hyundai parts. All of our vehicle aftersales services are carried out with the best technology and tools, allowing us to service your car quickly and efficiently. We only use quality parts so you can be sure that when you bring your car to Everton Garage, it will be treated like it were our own vehicle.
If you are just looking to source a new part for a repair on your vehicle, see if we can help you find the right part you need.
Benfits of genuine Hyundai parts
Genuine Hyundai parts are designed to offer quality, reliability and durability thanks to the rigourous testing process that puts the parts through their paces in extreme conditons. With lots of non-manufacturer approved parts on the market, not using genuine Hyundai parts can be detrimental to the way your vehicle runs.