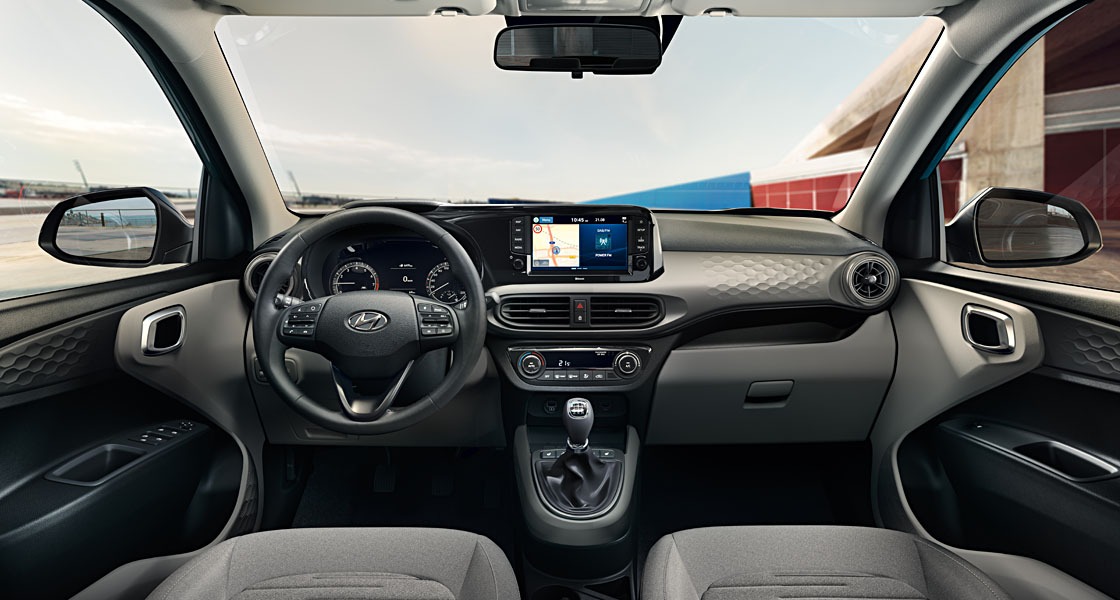 Explore the Hyundai i10 Interior
The Hyundai i10 is the smallest model in the range but that doesn't mean it compromises on features.
Designed primarily for city driving, the Hyundai i10 is compact so can easily navigate tight city streets, but packed with technology features to help you get to and from your destination safely.
Hyundai i10 Interior
Because the Hyundai i10 is compact, everything is available at your fingertips in the cabin area, so you can keep your eyes firmly on the road ahead.
Technology
Despite the small size, there's no shortage of technology features with the Hyundai i10, which are designed to keep you connected at all times during your journey.
Digital display
Depending on which trim you opt for, you can take advantage of either a 3.8" display (with the SE model) or an 8" touchscreen display with smartphone integration (with the SE Connect, Premium and N Line models). You also have the option to upgrade to navigation and Bluelink technology (only on Premium and N Line trims).
Wireless charging
If you are regularly making long journeys, you might benefit from the Wireless Charging Pad which is available with the Tech Pack on Premium and N Line trims. Qi-enabled smartphones can be charged using the wireless charging pad.
Instrument panel
The instrument panel displays all the details you would need to access about your car, from fuel consumption to length of journey.
Bluetooth
Bluetooth technology allows you to stream music and make calls from a compatible smartphone. Bluetooth is available as standard, whereas SE Connect and Premium models offer voice recognition.
Steering wheel controls
The steering wheel features buttons that allow you to control audio, phone and cruise-control functions right from your fingertips.
Bluelink technology
Bluelink technology is included as part of the Tech Pack and allows you to control your Hyundai i10 from your smartphone or with online voice recognition. You will be able to control remote door locking, Find My Car and configure routes using the navigation system.
Comfort Features
5 seats
The Hyundai i10 has room for 5 adults to travel comfortably, whereas most vehicles in this category would only have 4. The Premium model also has heated front seats.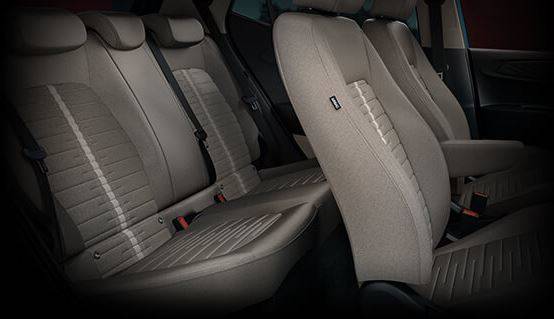 Electric windows
You'll be able to take advantage of front and rear electric windows for complete ease of use and comfort. It means you don't need to take your hands off the steering wheel for very long.
Automatic climate control
Available only with the Premium trim, automatic climate control, so you can set the temperature of your car to a comfortable level.
Steering wheel
As standard, the Hyundai i10 includes a leather covered steering wheel. The Premium model features a heated steering wheel for additional comfort, especially during the winter months.
Storage options
To keep everything safe from rattling around, you'll find cup holders, a centre panel and door bins which can accommodate larger items. The glovebox with additional shelf keeps your personal belongings out of sight when parked up.
The boot space is 252 litres so can easily accommodate a suitcase or your weekly shop. If you fold down the rear seats, you can take advantage of the adjustable boot flooring, allowing you to level the space for to accommodate larger items.
Safety Features
The safety features that come as standard with the Hyundai i10 are designed for both city driving and those longer motorway miles.
Isofix anchors
There is an Isofix anchor in the rear seats, offering extra stability and practicality when travelling with little ones.
E-Call
If you often travel alone, or travel in more rural areas, the E-Call feature is an additional safety feature designed to contact the emergency services in the event of an accident where the airbags are deployed.
You can manually press the SOS button which connects you to emergency assistance 24/7, 365 days a year.
Rear view camera
If you opt for the SE Connect or Premium model, you can benefit from a rear-view parking camera which displays on the 8" screen. This feature is great for parking in city environments where spaces are tighter. This also aims to protect pedestrians who are crossing the road.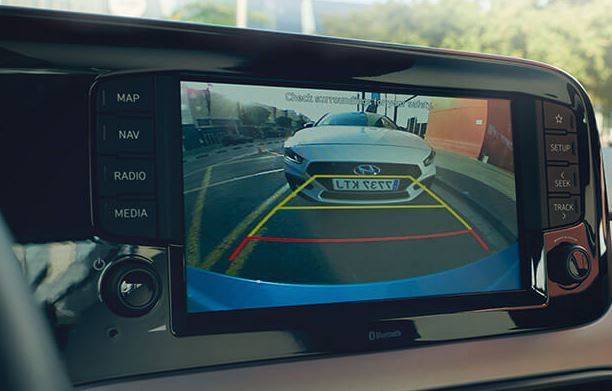 If you'd like to arrange a test drive of the Hyundai i10, get in touch with Everton Garage, your local Hyundai dealer, who would be happy to arrange this for you.
Latest News