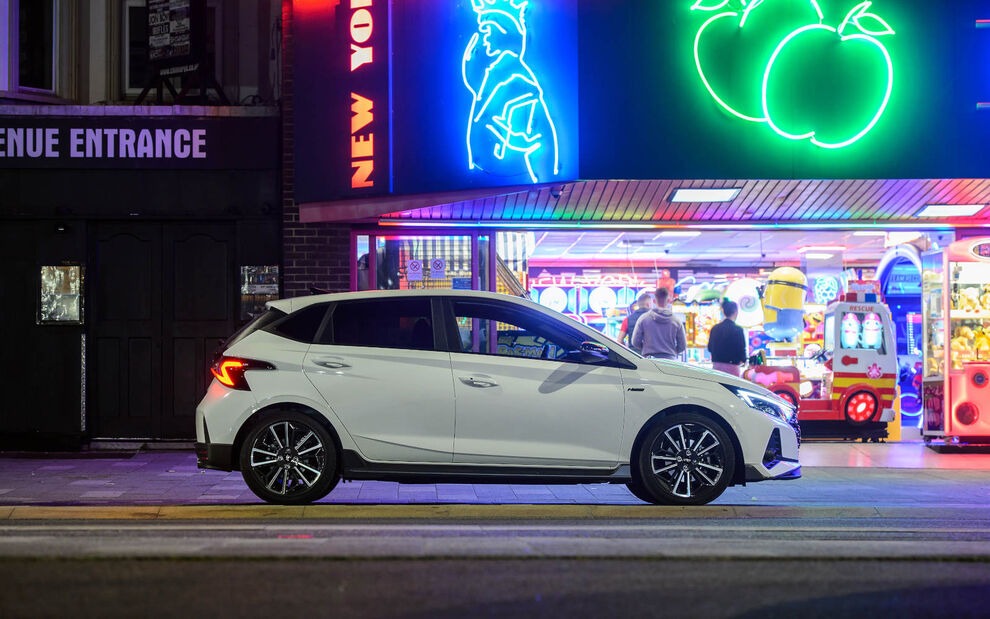 Explore the Hyundai i20 Interior
The Hyundai i20 is more spacious than the Hyundai i10, which is build primarily for city environments, making it suitable for small families who want a reliable car that is packed with safety features. Despite it being larger than the i10, it is still suited to fast paced city environments.
Hyundai i20 Interior
The Hyundai i20 is compact but the interior is well equipped and practical, putting everything in the centre console at your fingertips.
Technology
The centre console is intuitive but compact, allowing you to control the functions of your car whilst keeping your eyes firmly on the road ahead.
Touchscreen Display
In the centre of the console, you'll find either an 8" or a 10.25" (Premium and Ultimate models) touchscreen display that you can integrate with your smartphone, allowing you to stream your chosen music. You can also manage your smartphone apps using the touchscreen display.
The 10.25" option offers split screen functionality allowing you to multi-task entertainment and navigation.
Digital Cluster
The digital cluster sits behind the steering wheel, keeping everything in the driver's line of sight, presenting essential driving information on the 10.25" digital display. This is standard on SE Connect, Premium and Ultimate models.
Wireless Charging
If you opt for the Ultimate model, you can take advantage of a wireless charging pad that is conveniently located behind the gear stick in the centre console.
Bose Sound System
The Ultimate models come with a Bose sound system as standard, which includes eight speakers and a sub-woofer.
Rear USB Port
If you regularly travel with passengers in the rear of your car, they can stay connected using the USB Port located in the rear.
Bluelink Technology
If you opt for the Premium or Ultimate model, Bluelink technology lets your control some of the functions of your car directly from your smartphone, including remotely locking and unlocking your vehicle. If someone tries to break into your vehicle, you can have an alarm sent to your smartphone to alert you.
Rain Sensor
Both the Premium and Ultimate models have a rain sensor which is designed to automatically activate the windscreen wipers and adjust the speed according to the intensity of the rain.
Comfort Features
As well as the intuitive technology features, the Hyundai i20 has plenty of comfort features as standard, designed to make your journey more enjoyable.
Air Conditioning
Depending on which model you opt for, you can benefit from either manual or climate-control air conditioning. SE Connect models have manual air conditioning as standard, whereas both Premium and Ultimate models include climate-control with an automatic de-fog for the front windscreen.
Heated Front Seats & Steering Wheel
Both Premium and Ultimate models feature a heated steering wheel and heated seats as standard, meaning those cold morning drives are made much more comfortable from the get go.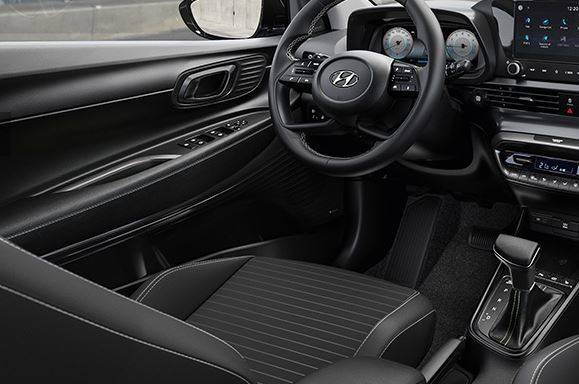 Ambient Lighting
Ambient lighting is available on both Premium and Ultimate trims, offering a unique finish that creates a comfortable atmosphere.
Safety Features
If you are travelling with your young family, safety features should be an important consideration. There is no shortage of driver assist or safety features across the Hyundai range.
eCall
In the unfortunate event of an accident, the eCall facility with alert the emergency services and provide them with details of your car's location.
6-airbag System
The 6-airbag system is made up of driver and passenger airbags, front side airbags as well as front and rear curtain airbags. These airbags are designed to protect all occupants in the event of an accident.
Emergency Stop Signal
If the car needs to make an emergency stop, the vehicle's emergency lights will automatically start flashing, alerting the driver behind that you have made an emergency stop. This feature is designed to prevent a rear-end collision.
Driver Assist Features
With the Hyundai i20, you'll be able to take advantage of the wide range of driver assist features that come as standard.
Autonomous Emergency Braking
The front mounted camera will look out for vehicles in the road ahead and if one is detected, the Autonomous Emergency Braking function will activate, alerting the driver to take evasive action.
Front Collision Assist
Front Collision Assist works in conjunction with Autonomous Emergency Braking and utilises the radar and sensor to detect cars, pedestrians and cyclists in the road.
If an obstruction is detected in the road and no action is taken by the driver, the brakes will be applied.
Lane Keeping Assist System
If the vehicle unintentionally starts to move from a lane (without the indicator being activated), a loud audible warning will sound so the driver can take action.
Blind Spot Collision Warning
Using sensors mounted on the rear bumper that can detect vehicles in close proximity, Blind Spot Collision Warning will trigger a warning light on the relevant door mirror and if your vehicle starts to manoevre into its path or the indicator is applied, an acoustic signal will immediately sound so you know to wait until the vehicle has passed. This function is best suited to motorway or dual carriage way environments.
If you would like to take a test drive of the Hyundai i20, visit Everton Garage, your local Hyundai dealer in Lymington, Hampshire or get in touch and we will arrange this for you.
Latest News