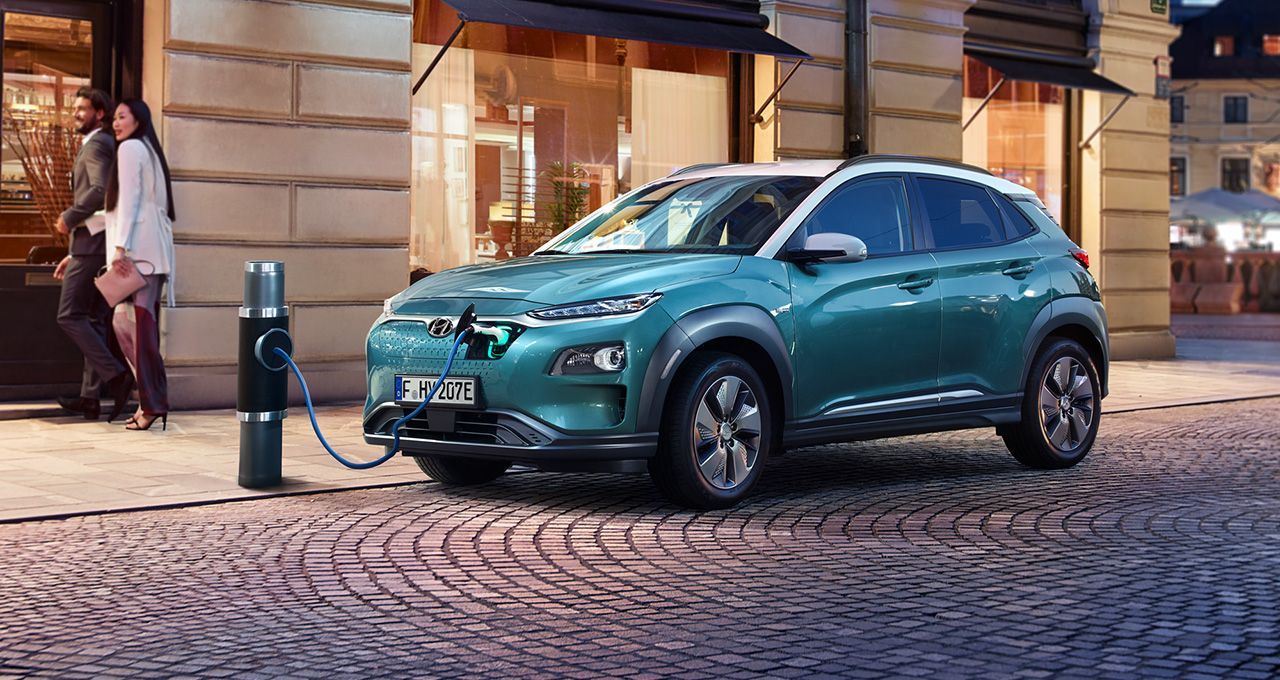 Explore the Hyundai Kona Electric
Electric cars, also known as EV's for short, are becoming more and more popular, with a 144% rise in sales based on the previous year. Their environmentally friendly features are appealing to commuters as electric cars can now offer up to 250 miles between charges, an improvement from recent years. There is also a much wider range of electric vehicles on the market, offering more options to those looking to adopt an electric vehicle into their lives.
Owning an electric vehicle comes with a host of benefits:
Hyundai Kona Electric Cost savings
There are a number of cost savings associated with owning an electric vehicle such as the Hyundai Kona Electric over a conventional petrol or diesel car, noticeably the consumption costs.
A typical petrol or diesel vehicle can cost anywhere between £50 and £80 for a full tank of fuel, whereas electric vehicles can cost as low as £5 for a full charge – a major difference as far as cost is concerned.
With a pure electric vehicle having incredibly low emissions, there is usually no vehicle tax to pay which can be a significant cost saving compared to if you drive an SUV or similar sized vehicle.
Lastly, electric vehicle engines are made up of fewer components which mean there are less moving parts that could go wrong and need repairing or servicing as regularly.
Is it convenient to own an electric car?
The convenience of being able to charge your vehicle at your own home is advantageous to most electric vehicle owners as it saves last minute trips to refuel. Electric charging ports can easily be installed at your home and you can even select a specific energy tariff to accommodate electric vehicle charging.
There are alternative methods for charging your vehicle with the most popular being at public charge points where there is usually rapid charging available. These public charge points are located at supermarkets, public car parks and motorway service stations. With ZapMap, you can see how many public charge points are in your local area before you invest in an Electric car.
About the Hyundai Kona Electric
The Hyundai Kona Electric is a car of no compromise, combining Hyundai's progressive SUV style and a zero-emission electric powertrain.
It offers the same expressive design as the Hyundai Kona so there is no compromise to be made when switching to the Electric version, but all of the benefits to gain.
What's the Hyundai Kona Electric interior like?
The Kona Electric provides passengers a spacious cabin and comfortable, premium interior. With plenty of advanced technology, the Kona offers wireless charging facilities, premium surround sound, climate pre-settings and heat ventilated seats for a truly enjoyable ride for both the driver and passengers.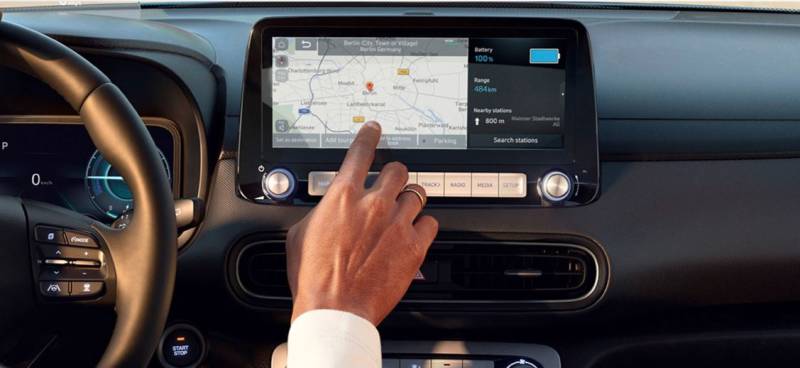 What's the Kona Electric like to own?
Interior
The Hyundai Kona Electric is designed to offer plenty of space for all passengers as well as a number of storage options.
There's heated and ventilated seats so you and your passengers can travel at an optimum temperature that suits them.
Heated and ventilated front seats
Plenty of storage options
Exterior
With a sleek SUV style design, the Kona Electric has an eye-catching look and fits seamlessly into city or rural areas.
The Kona Electric features new sleek, distinctive headlamps and Daylight Running Lights as well as painted wheel arch claddings for a more athletic look and feel.
The tail lamps are stretched horizontally to mirror the look and feel of the front of the vehicle.
LED Headlamps
Horizontal Rear Tail Lamps
Athletic Wheel Arches
Technology
Suitable for everyday driving, the Kona Electric features a 7-inch infotainment system, with a pop up feature that can project directly into the drivers line of sight, meaning their eyes are constantly on the road.
The integrated touchscreen navigation system (on premium and premium SE models) keeps you on the straight and narrow on those longer journeys. The 10.25" digital cluster is designed to display all of the driver information you need, so its readily available to you at all times.
There's wireless charging available as standard to keep you fully connected at all times.
The remote climate settings allow you to pre-heat the vehicle remotely so it's at its optimium temperature ready for you to drive away.
KRELL Surround Sound
You can also keep entertained on your journeys with the KRELL Premium surround sound system, which adopts similar concepts to those used in home audio to give you the same quality sound in your car.
KRELL System Features:
Honeycomb - the polyhexagon patterned material structure is made with special high-strength fiber, delivering realistic bass
Live Dynamic - Live Dynamic is a sound algorithm technology that is designed to achieve the original sound production
Noise cancellation - this feature eliminates unecessary background noise while driving
10.25" Digital Cluster
Wireless Charging
KRELL Surround Sound
Remote Climate Settings
7" Infotainment System
Touchscreen Sat Nav
Bluelink connectivity
Voice Recognition
Safety Features
The Hyundai Kona does not compromise on safety features, with a range of technology as standard to help you get from A to B as safely as possible.
Blind Spot Collision Avoidance Assist uses dual radar sensors to warn you of traffic that is passing behind you in your blind spot. If you then use your indicator, a warning noise will sound.
If you live or work in a city environment for example, the Rear Cross-Traffic Collision Avoidance Assist used sensors on the side of the vehicle to detect vehicles approaching from the side, so you can safely reverse from parking spaces.
Lane Following Assist is ideal for those doing long, tedious Motorway journeys, as it keeps the car centred in the lane so you can prevent drifting into another lane.
Blind Spot Collision Avoidance Assist
Rear Cross-Traffic Collision Avoidance System
Lane Following Assist
Forward Collision Warning
Lane Keep Assist
What features come as standard with the Kona Electric?
The Kona Electric also does not compromise on safety features, with Smart Cruise Control, Lane Keep Assist and Blind Spot Collision Warning to provide complete peace of mind when on the open roads.
The Hyundai Kona Electric offers the best driving features of an electric vehicle, from an adjustable regenerative braking system, which allows the driver to adjust the intensity of the regenerative braking by using the paddle shifts behind the steering wheel to being able to bring the vehicle to a complete stop by keeping the left paddle held – without using the brake pedal.
Additionally, the radar sensor alongside the smart regenerative braking system, can monitor traffic ahead and control the braking system to ensure the vehicle comes to a stop in time.
How economical is the Hyundai Kona Electric
For those who are yet to explore the cost effectiveness of an electric vehicle can be assured that the Hyundai Kona Electric can be charged for as little as £7.50, which for an SUV would provide quite the cost savings against Petrol or Diesel engines. Charging times can depend on the kW, but the Kona can charge to full capacity in as little as 75 minutes (rapid charging). Rapid charging is usually found in public charging ports, rather than residential charging ports.
What kind of range does the Hyundai Kona Electric offer?
The Konda Electric can provide up to 278 miles on a full charge, giving you complete peace of mind when making those long journeys.
If you'd like to explore the Hyundai Kona Electric further, visit us in Everton, Hampshire to take a test drive and speak to our friendly team about finance options, or get in touch via our website and we will be in touch.
Latest News