Hyundai i20 - Deep Dive
The Hyundai i20 is the ideal option if you're looking to upgrade from a compact city car to a small hatchback that is capable of accommodating a small family comfortably.
Despite being suitable for families, the i20 is still more than capable of navigating tight city streets with ease, so it can switch between being a commuter car to a weekend adventurer, helping you discover new places.
The i20 is an incredibly stylish, sleek and innovative hatchback that is sure to turn heads.
Benefits of a small hatchback
A compact hatchback generally has a much lower cost of ownership, with reduced fuel costs and a cheaper upfront investment than an SUV.
Hatchbacks have a good amount of boot space which can accommodate a pram, a weekly shop or smaller furniture you might need to transport.
Smaller footprint
Compact hatchbacks have no problem navigating city streets, parking in a space constrained area or travelling on motorways. The smaller footprint means you don't need to pre plan where you are going to park or which way you need to travel like you would with a much larger vehicle.
Stylish design
Hatchbacks are often the most stylish option, especially if you are used to driving a sporty model that has great performance. Hatchbacks are often the best option for smaller families who don't need the space associated with an SUV model.
What's the Hyundai i20 like to own?
Interior
If you like the interior of your car to be as stylish as the exterior, the Hyundai i20 certainly won't disappoint. The cabin is spacious, enough to accommodate 5 adults, as well as being stylish and comfortable, making long journeys an enjoyable experience.
First up, there's a 10.25" digital cluster display which provides you details of your vehicle and driving data. This helps you amend your driving style to help you save fuel and ultimately drive more efficiently.
In the centre console, you have an 8" touchscreen display with audio and smart device integration, allowing you to control your smartphone through your car.
For additional style, there's blue LED ambient lighting in the footwell area which is perfect for night time drives.
The rear seats are in a 6:4 configuration, meaning you can fold the seats down to create more boot space, especially when you need to transport bulky or awkward sized items.
If you opt for the Premium or Ultimate model, you can benefit from heated front seats, a heated steering wheel and a 10.25" touchscreen with split screen functionality.
Exterior
First of all, the exterior is incredibly stylish, including the shape of the body which is reminiscent of more premium brands.
The shape is aerodynamic, making it as efficient as possible, especially for motorway driving where your speed is likely to be faster than it would be in a city.
The sporty look and feel is ideal for those who enjoy the performance features associated with hatchback cars.
On the rear, there's a high-mounted brake light which sits at eye level, making it much easier for the driver behind to see when you brake and act accordingly. There's also dual tone rear reflectors that make you even more visible to the driver behind.
The door mirrors are electrically heated and adjustable and on Premium and Ultimate models, there's privacy glass for a more enjoyable journey for your rear passengers.
The rear LED lights curve round the body of the car, making them easy to see from all angles.
Technology
You can take advantage of wireless charging which helps you stay connected during your journeys, whilst also preventing you getting stuck in a remote area with no phone battery. This peace of mind alone is enough to want to purchase the i20.
With the integrated Bluetooth, you can connect your smartphone via either Apple CarPlay or Android Auto, allowing you to utilise your smartphone apps on the touchscreen device.
When you download the Bluelink smartphone app (on Premium and Ultimate), you can control your i20 from your fingertips, even when you aren't in the vicinity of the car.
Perfect for living in the UK, Premium and Ultimate models feature rain sensors that detect when it is raining and activate the window wipers, adjusting to the intensity of the rain.
There's additional technology in the Premium and Ultimate models, with a rear USB charger, keeping everyone connected and a Bose sound system, for those who enjoy listening to music during their commute or long trip.
Safety Features
When it comes to safety features, the Hyundai i20 does not compromise and there's no shortage, despite the compact size.
Autonomous Emergency Braking – Utilising a front mounted camera that analyses the road ahead, this feature will automatically apply the brakes if a vehicle or pedestrian is in the direct line of the car.
Forward Collision Assist – This feature senses the road ahead using a radar and a camera, which will automatically apply the brakes when a pedestrian is detected in the road ahead or a vehicle brakes suddenly in front.
Lane Keeping Assist System – This feature is ideal for those who will be doing a lot of motorway or dual carriage way driving and will alert the driver should the vehicle make an un-natural stray from a lane.
Blind Spot Collision Warning (Premium models) – A sensor is mounted onto the rear bumper and monitors the blind spot for any potential hazards. If another vehicle is detected in the blind spot and the indicator is activated, the system will alert the driver.
Hyundai i20 Insurance Group
The specification you choose will depend on the amount you pay for your insurance based on the insurance group, but for an SE, 1litre, manual, petrol model, you can expect the chosen model to be in group 10., which is considered one of the lower insurance groups according to moneysupermarket.com.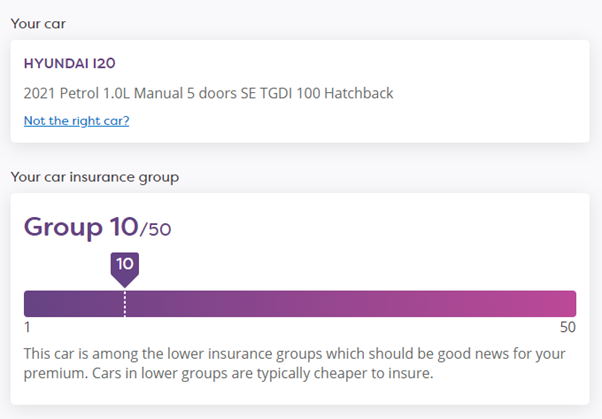 Hyundai i20 Car Tax Cost
Another cost when it comes to choosing a new car, is how much you'll pay to tax your vehicle. For the same specification of Hyundai i20, you can expect to pay around £155 per year.
Latest News