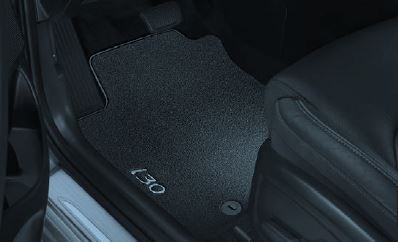 Hyundai i30 Accessories
Whether you already own a Hyundai i30 or you are thinking or upgrading to one, you might be keen to know what accessories you can purchase to make owning the Hyundai i30 even more enjoyable and practical.
The Hyundai i30 already comes with a whole host of features, including safety and entertainment technology, but there are still additional accessories you can purchase to further enhance your vehicle.
Exterior Accessories
You can purchase additional accessories to further enhance the exterior of your Hyundai i30, making it stand out even more than it does already.
Mirror Covers – Chrome
The chrome mirror covers add a real touch of style to the exterior finish of your car, offering a clear and seamless distinction between the standard paint colour and these chrome mirror covers.
Entry Guards
If you want to protect the paintwork on the door sills, the unique Hyundai i30 entry guards fit seamlessly onto the car, without looking out of place. These entry guards will take the brunt of any bangs or scrapes, keeping your paintwork looking top notch.
Tailgate Trim (Chrome)
The chrome tailgate trim is designed to add a touch of style to the rear of the vehicle, finishing off the boot handle nicely.
Side Trim Lines (Chrome)
If you want a stylish finish for your doors, the chrome side trim lines will also protect the paintwork in the event of a light bump when you open your door onto something hard such as a gate or wall.
Interior
If you are looking for some stylish interior accessories to finish off the look and feel of your Hyundai i30, why not see what genuine accessories are available.
Tailored Carpet Mats
Carpet mats are designed to protect the original carpet flooring in your car from residue on shoes and friction caused when driving. These carpet mats are designed to fit the exact dimensions of your footwell so won't slip and slide as you drive.
Boot Mat
Similar to carpet mats, a boot mat will protect the original flooring and keep it looking new for longer. If you regularly place items into your boot space, you may notice some wear and tear on the boot flooring, so a boot mat will protect against additional damage.
All Weather Mats
All weather mats are easy to wipe down and are incredibly durable so ideal for those who have outdoor hobbies such as football or watersports.
Boot Liner
If you need something a bit more durable than the boot mat which is carpet, the boot liner is easy to wipe down and made of rubber material, so it can even handle the wet dog after a walk.
LED Door Projector with Logo
If you want to add a final touch of style to your Hyundai i30, you can opt for the LED door projector which projects the i30 logo onto the floor, making it easy to see where you are in the dark.
If you'd like to discuss any of the Hyundai i30 accessories, speak to Everton Garage, your local Hyundai dealer based in Lymington, Hampshire.
Latest News