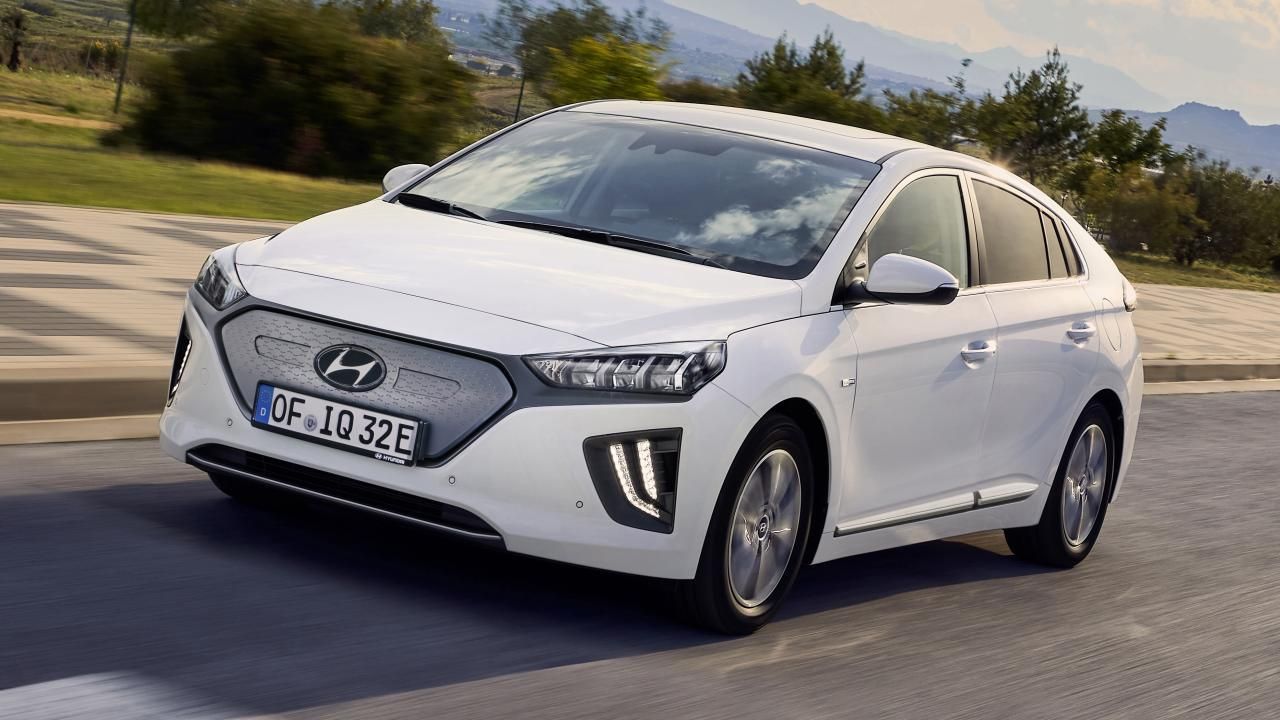 Hyundai IONIQ Electric Wins Best Electric Family Car
The Hyundai IONIQ Electric has been named the best Electric Family Car at the first ever What Car? Electric Car Awards.
What Car? experts praised the IONIQ's technology, drivability, equipment and value, saying 'IONIQ Electric makes the transition to zero-emissions as easy as possible'
The judges praised IONIQ Electric for offering a better package 'than any other rival' – whether that's its electric range, its value for money, its equipment or its technology.
The Hyundai IONIQ Electric is packed with safety and technology features making it a great option for families looking to reduce their carbon footprint and their overall running costs.
Aside from being incredibly economical and environmentally friendly, the Hyundai IONIQ Electric offers much more in terms of design and features.
Hyundai IONIQ Exterior
The exterior of the Hyundai IONIQ Electric is sleek, stylish and includes silver grille and bumper insert as standard for an overall attractive design. The design is also aerodynamic to maximise efficiency and an undisturbed air flow.
Hyundai IONIQ Interior
The interior of the Hyundai IONIQ Electric is effortless and designed to be clutter free. Alongside the sleek and desirable design, the IONIQ also comes with a heated steering wheel and dual zone climate control to provide comfort to the driver and their passengers. For additional comfort and added relief, the Premium SE models include ventilated front seating.
Safety Features
As a family car, the Hyundai IONIQ Electric is packed with safety features as standard, from blind spot detection to autonomous braking system and lane keep assist, to offer complete peace of mind when travelling with children.
The IONIQ Electric also includes E-Call, an emergency assistance feature that calls the emergency assistance call centre when the airbags are deployed, however there is also an eCall button that can be manually activated in an emergency.
Drive
The Hyundai IONIQ Electric is an effortless drive that delivers strong performance, with an optimum range of 193 miles to offer peace of mind on longer journeys. The IONIQ Electric can also be charged to 80% capacity in around 57 minutes, depending on the power source.
Benefits of Owning Electric Family Car
There are a multitude of benefits of owning an electric car that can benefit both your wallet and the environment.
Reduced running costs
Owning an electric car will allow you to realise cost savings, both from a maintenance perspective and everyday running costs associated with refueling. Where refueling a standard petrol or diesel car can cost anywhere between £50 and £80, an electric car can be charged for as little as £5 for a full charge.
Electric cars are also exempt from tax and congestion charges associated with populated city centres such as London.
Reduced impact on the environment
An electric car such as the IONIQ Electric has zero exhaust emissions, making it one of the most environmentally friendly forms of transport. Electric cars also run from renewable energy which reduces your greenhouse gas emissions further.
Reduced maintenance costs
As electric cars have much fewer moving parts, they are less prone to breaking or needing maintenance regularly, therefore reducing ownership costs further.
Improved health benefits
With the reduced emissions comes improved health benefits; there are less toxic fumes in the air therefore the air we breathe is cleaner and much healthier.
If you are interested in the Hyundai IONIQ Electric, contact us today and we will be in touch shortly. Alternatively, you can build your car deal online.
Latest News