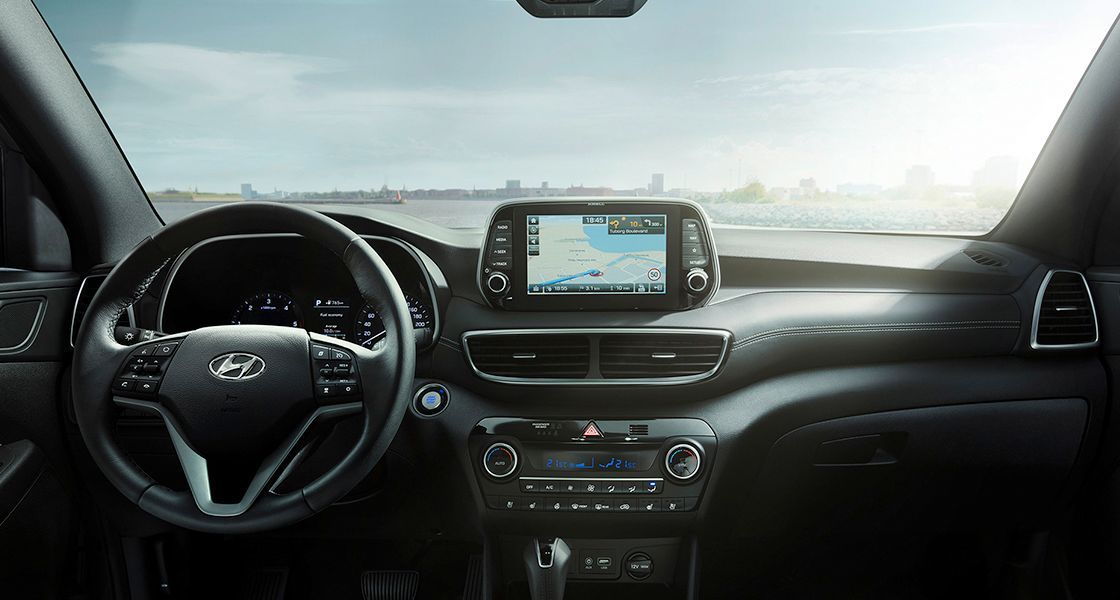 Hyundai Tucson in Everton, Hampshire
Hyundai Tucson available at Everton Garage Hampshire
The Hyundai Tucson SUV, complete with 5 year unlimited mileage warranty, roadside assistance and 5 annual vehicle health checks provides complete peace of mind, whether you are commuting to work, doing the school run or just popping to the local shops. The compact SUV is ideal for family outings, with plenty of boot space and internal storage.
The boot capacity on the Hyundai Tucson is 513 litres, providing an incredible 1,503 litres when the rear seats are folded down, so you can transport large or bulky items such as bicycles, pushchairs and sporting equipment. It's also ideal if you need to transport funiture or heavy items between two homes. With everything in the boot, it means your passengers get a more comfortable journey and more space to manouevre.
Design
The Hyundai Tucson has a much sportier edge, offering LED headlights, the Hyundai signature cascading grille and panoramic sunroof.
As well as the sporty exterior, the interior offers so much more, with exceptional space and comfort as well as best in class boot space, transforming 513 litres into 1,503 litres (petrol models), ideal for those family days out.
Interior
There are also plenty of interior style options to choose from, with cloth interior available on the S Connect and SE Nav models and leather on the premium models and above. The Tucson was designed with comfort and style in mind, with premium soft touch materials, oodles of space and seat heating and ventilation for all passengers (Premium models).
Technology
The Hyundai Tucson certainly does not compromise on technology features. With wireless phone charging, electrically adjustable seats and plenty of safety features, offering complete peace of mind.
All Hyundai Tucson models feature either a 7 or 8 inch floating touchscreen, which incorporates DAB digital radio, Bluetooth and Apple Car Play/ Android Auto as standard. The 8 inch model also includes a built in sat nav, including 5 years of free map updates and a 7 year subscription to TomTom's LIVE services (traffic updates etc).
The Hyundai Tucson's premium model offers comfort and convenience on long journeys, by featuring wireless phone charging and heated seating, while the Tucson Premium SE model features heated & ventilated seating.
Safety features
The Tucson also features Hyundai SmartSense, a combination of cutting edge technology, designed to make your journey smoother and safer. Hyundai SmartSense consists of AEB (Autonomous Emergency Braking), which senses the road ahead with radar and a camera, automatically braking when detecting a pedestrian or another car braking heavily. The premium models also include Rear Cross Traffic Alert, which alerts the driver if someone is approaching from the side, making reversing out of parking spots much easier.
For those dark, cold Winter days, HBA (High Beam Assist) comes in handy, as the Hyundai Tucson will automatically switch to low beam when detecting oncoming vehicles and those ahead. When other vehicles disappear, the high beam will be reactivated, leaving the driver to focus on the driving.
All of the new Hyundai Tucson models come with dual-zone climate control as standard, so the driver and passengers can set a preferred temperature.
If you're looking for an SUV that won't compromise on the style and performance of a standard car, contact us about the Hyundai Tucson today.
Latest News