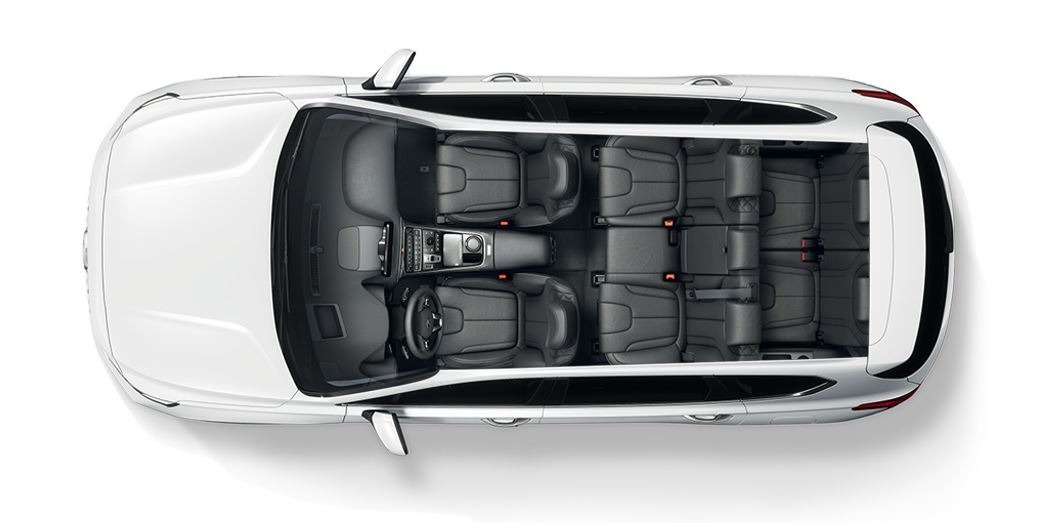 7 Seater Hyundai Models
If you have a large family or you regularly go on trips with another family, a 7-seater car might be the perfect solution for you.
Not only does it make it much cheaper overall, as you are only fuelling up the once, it means you only have to find parking for one car and you can all travel together and enjoy the journey.
If you are only heading a few miles down the road, taking two cars isn't too much of a hassle, in fact it's probably much easier, but if you are heading away on a staycation for example, it makes more sense to take the one car.
When to consider a 7-seater car
7-seater cars and SUVs are now much more discrete than previous years where they might have looked more bulky and 'boxy'. Take the Hyundai Santa Fe; the design is incredibly stylish and sleek, without looking like a 7-seater SUV. It is also powerful enough to feel like you are driving a standard sized car.
Larger families
7-seater cars are most popular with larger families (over 5 members) as most standard sized cars and SUVs have five seats (including the driver).
Families with more than three children will rarely be able to travel together in one car, unless they upgrade to a 7-seater car or SUV.
If you share childcare with another family, having a 7-seater car for the school run makes much more sense too.
Childminders
Childminders will likely need a 7-seater car that means they can accommodate multiple children at any one time, whether it's collecting them from school or heading out for a fun filled day at the beach.
Not only will the car need to accommodate multiple children, there's a high likelihood it will need to hold car seats too, which take up more space.
If this is the case, you will need to ensure the car has ISOFIX anchor points, so the car seats are fitted safely. With Hyundai's 7-seater model, the Hyundai Santa Fe, the second row of seats has 3 ISOFIX points (but none on the third row), so younger children can sit in behind the driver and the older children can sit on the back row.
You take regular staycations
If you often head away for the weekend, either within your own county or across the country, a 7-seater model could provide you with the space you need to travel together with your family, luggage and hobby equipment.
You may need to take a wide range of additional equipment when you decide to go on a staycation, from cooking equipment to bikes if you are looking to explore new places.
Even if you only need to use the standard 5 seats regularly, the additional space in the rear will mean your passengers don't need to compromise on space or comfort during long journeys. If you don't use the third row of seats, you can benefit from 625 litres of boot space.
You have an outdoor hobby
If you have an outdoor hobby such as hiking, surfing or cycling, you may often head out in groups to faraway or remote locations which makes investing in a 7-seater car a good option.
With the Hyundai Santa Fe, you can configure the seating to your needs, allowing even a surfboard to be placed within the cabin area.
7-seater electric vehicles
The 7-seater Hyundai Santa Fe comes as either a Hybrid or a Plug-In Hybrid option to suit your preferred requirement.
This type of technology helps keep costs down as well as your emissions, so you are driving a greener car for everyday errands.
Towing with a 7-seater car
The Hyundai Santa Fe makes light work of towing, with the ability to tow 2,500kg (manual), which is one of the highest in the range.
This means you can head out on a break with your caravan whenever you want and you know there's plenty of room for the whole family to travel together.
What's the 7-seater Hyundai Santa Fe like to own?
When the time comes to upgrade to a 7-seater SUV such as the Hyundai Santa Fe, you will want to ensure it meets your needs in more ways than just having 7 seats.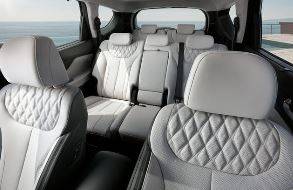 The Hyundai Santa Fe is fully equipped for travelling with children, with a range of safety features and enhancements to make your life easier:
Safety features
Rear occupant alert – the Santa Fe has a system that will alert you if the driver has left the vehicle and there is movement in the rear seats. A horn will sound and the lights will flash.
Hyundai SmartSense – Hyundai's cutting edge technology is designed to provide added protection to the occupants of your car as well as other road users. These driver assist features will aid the driver to ensure they get from A to B as safely as possible.
Six airbags – the Hyundai Santa Fe has six airbags that provide comprehensive protection to you and your passengers in the event of a collision. This is designed to minimise the affects of a collision by taking the majority of the impact.
Comfort and convenience features
Easy third row access – the second row of seats can be moved quickly and easily with just the touch of a button, making it convenient when you have your hands full.
KRELL premium surround sound – for long journeys, having a premium audio system can make journeys much more enjoyable.
Wireless phone charging – when making a long journey, having wireless charging located in the centre console keeps you connected at all times
Ventilated front seats – For a comfortable journey, Ultimate models include ventilated front seats to allow the air to flow better.
Hyundai Cloud server – you can receive up to date traffic information and precise arrival times with the Hyundai Cloud server.
Apple CarPlay and Android Auto – You can mirror your smartphone onto the 10.25" touchscreen via a USB connector.
If you are looking to check out the 7-seater SUV from Hyundai, give Everton Garage a call who will be happy to arrange a test drive for you
Latest News