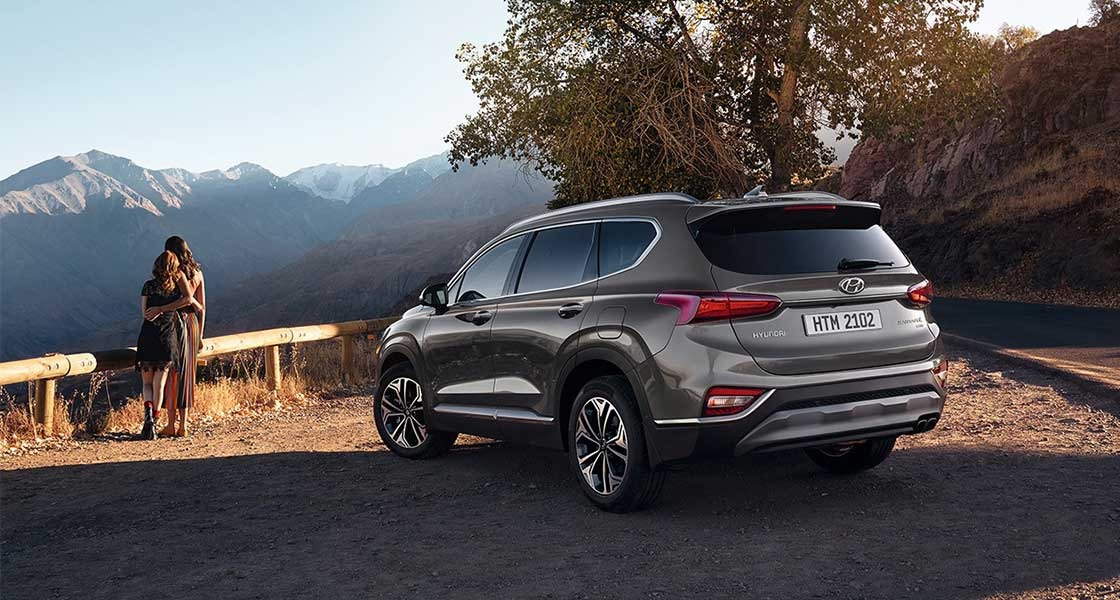 Best Cars for Towing Caravans
Staycations are becoming more and more popular, particularly since holidays were few and far between during 2020. This might mean you are looking to find the best cars for towing a caravan, so you can head away on your UK holiday.
Staycation holidays offer people the freedom and affordability of enjoying what our country has to offer, without worrying about the logistics that are associated with international travel, such as tiresome flights, exchanging money and getting any required immunisations before the trip.
Staycations can often be much more relaxed as you can organise it last minute, without the stress, especially if you own a caravan. If you are thinking of taking a staycation or if you are already a seasoned caravanner, you want to ensure the car you purchase to tow your caravan is the most efficient and of course, safe.
In this article:
Towing Regulations
What to check before towing a caravan
Hyundai Santa Fe
Hyundai Tucson
Hyundai Kona
Compare towing weights
Towing regulations
There are legal requirements that the car must meet when towing a caravan, to ensure the safety of the driver, their passengers and other road users. It's important to ensure that the vehicle you use for towing a caravan meets the minimum requirements:
License issue date
There are regulations when it comes to towing a caravan and the date your driving license was issued. According to gov.uk, these are different rules depending on the date your licence was issued:
Licence issued after 1st January 1997;
You can drive a car or van up to 3,500kg towing a trailer of up to 750kg
You can tow a trailer over 750kg providing the total weight of the trailer and the towing vehicle does not exceed 3,500kg
License issued before 1st January 1997;
You can drive a vehicle and tow a trailer providing the combined weight of both the vehicle and trailer don't exceed 8,250kg.
Towing Bars
Any tow bars you use to tow a caravan must meet EU regulations or 'type approved', which means having an approval number and details of the vehicles it is approved for use with.
Towing Mirrors
The law requires that you have an adequate view of the road behind you, so it's important to fit suitable mirrors, especially if the caravan is wider than the rear of your car.
Registration Plate
It is a legal requirement that you display a copy of your car registration number plate on the back of the vehicle you are towing.
Age Restrictions
There are age restrictions for towing a caravan as well as needing the correct license. If you are planning a journey or thinking of purchasing a car to tow a caravan, find out whether there are any restrictions first.
Towing limits
Cars have a maximum weight they can tow. Most of the time, this can be found in your car's handbook, however, if you are planning on making regular journeys with a caravan, it might be time to invest in a new model that is efficient, reliable and of course, meets legal towing requirements.
What to check before towing a caravan
Towball - you should ensure that the trailer is coupled correctly with the towball or pin and that it is coupled at the correct height.
Brakeaway cable - in the event that the trailer becomes detached from the towing vehicle, the trailers brakes should apply. You will need to check that the cable is not worn, damaged and there is enough slack in the cable to prevent the brakes being applied accidently.
Tyres - as with any long journey, you should always check the condition of your tyres before you set off. Each tyre should have a tread depth of 1.6mm which you can check using a twenty pence piece ( a 20p coin is the correct size for checking the tread depth).
Indicators - your indicators should be visible when you are towing a caravan or trailer, so you will want to check that these are in working order as they are important for warning road users about your next movement.
What cars are best for towing?
Let's jump right in. We show you the best towing vehicles that we can offer here at Everton Garage, all suitable for families looking to get away on a staycation.
Hyundai Santa Fe
The Hyundai Santa Fe has a towing capacity of between 2,000 – 2,500kg meaning it can tow most caravans. The electronic handbrake holds the car and caravan steady on inclines and the brakes perform well, with the ability to stop the 3.5-tonne vehicle and its caravan in 10.5m traveling at 30mph.
The Santa Fe is a seven-seater SUV designed for families who do not want to compromise on style or design. With an integrated 12.3" digital cockpit and a 10.25" touchscreen, the Santa Fe allows you to access and control the car at your fingertips.
If it is safety features you are looking for, the Santa Fe does not disappoint. With Lane Keep Assist, Blind Spot Monitoring, and Adaptive Cruise Control, the Santa Fe helps you get from A to B safely, particularly when you are traveling in unknown areas. These safety features are a welcome addition, especially when towing a caravan, as visibility can often be reduced, even with towing mirrors.
Hyundai Santa Fe Towing capacity - 2,500kg
Hyundai Tucson
The Hyundai Tucson has been tried and tested towing a caravan up 2,200kg and up to speeds of 70mph (on a dedicated test track!) and there were no reported issues, aside from some slight movement which is to be expected from two large vehicles moving at speed. Once reaching 80mph, there were some slight differences to the handling of the Tucson, but this shouldn't be a speed you travel at when towing a caravan anyway.
The Tucson is a much more compact SUV than the Santa Fe, so ideal for those who don't need quite as much space.
There is no compromise on style or design with the Hyundai Tucson, which oozes class. Complete with alloy wheels, roof rails, and Black Leather Seat Trim, the Tucson will give that high-end feeling, even on long journeys.
Safety features are included as standard to keep you safe on the road. These include Rear Cross Traffic Collision Avoidance, Blind Spot Collision Warning, and a parking camera.
Hyundai Tucson Towing capacity - 2,200kg
Hyundai Kona
Last but not least, the Hyundai Kona is built for adventures and makes light work of towing caravans up to 1,270kg. There is a wide range of trim levels to choose from, including the S, SE, PLAY, Premium, Premium SE, and Premium GT. If you opt for a Premium model, you can take advantage of 18" alloys, keyless entry and start, an 8" touchscreen, and wireless charging.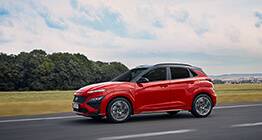 The Kona is spacious, with enough room for 3 adults on the rear seats or alternatively, 2 ISOFIX child seats. There is plenty of technology to enjoy and safety features as standard in the Hyundai Kona, including Apple CarPlay and Android Auto, Lane Keep Assist and Blind Spot Detection.
Hyundai Kona Towing capacity - 1,270kg
Towing Capacity across the Brand New Hyundai Range
Cars that can tow 2,500kg
If you are looking for a car that can tow 2,500kg, the Hyundai Santa Fe will suit your needs. The spacious SUV offers comfort features for passengers and the driver during every journey, especially those long drives heading away on a staycation.
If you are looking for a towing vehicle, look no further than the brand-new Hyundai range here at Everton Garage.
Latest News