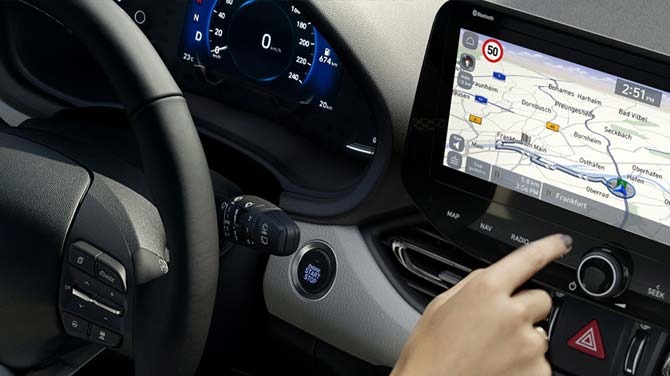 Hyundai i30 - Deep Dive
The Hyundai i30 is the perfect hybrid between city driving and family adventures. Whilst the i30 offers 5 doors and a good amount of boot space, it's primarily ideal for smaller families who will be commuting during the week and looking to go further afield on the weekend.
The design of the Hyundai i30 is incredibly stylish and elegant, offering an executive feel that would fit seamlessly into any city environment.
Benefits of a compact family car
When the time comes to upgrade your family car, perhaps you have just expanded your family or you just need a newer car, it's important to consider what kind of car you need and what would fit best into your lifestyle.
If you are a family of 2, 3 or even 4, you will likely need a larger hatchback or an estate car to suit your circumstances, but this can be entirely dependent on your needs. For example, if you have younger children that are still using pushchairs, you may want to reconsider and perhaps look at an SUV instead.
For older children who have outgrown pushchairs or even car seats, a large hatchback should be more than sufficient.
Smaller footprint
With a large hatchback, you can be confident that your car will easily navigate tight city streets, busy environments where you are likely to be stopping and starting regularly and motorway environments where you need excellent all-round visibility.
By not purchasing a car that is too large for your needs, you won't need to worry about it fitting on your driveway or garage as hatchbacks will generally fit into any standard space.
With smaller cars, you are also likely to get much better efficiency overall as there's less weight to carry, which allows you to keep your associated costs down.
Stylish design
If you are used to driving hatchbacks and enjoy the thrill off the performance, you don't need to compromise when you have a young family that you need to transport around.
What's the Hyundai i30 like to own?
Interior
The exterior design of the i30 isn't the only stylish feature – the interior is also packed with stylish detailing that make it an enjoyable vehicle to drive.
Firstly, there's an intuitive 3.5" LCD digital instrument cluster, providing up to date information of your journey and energy usage.
In the centre console, you've got an 8" touch screen display that includes smart device integration and DAB.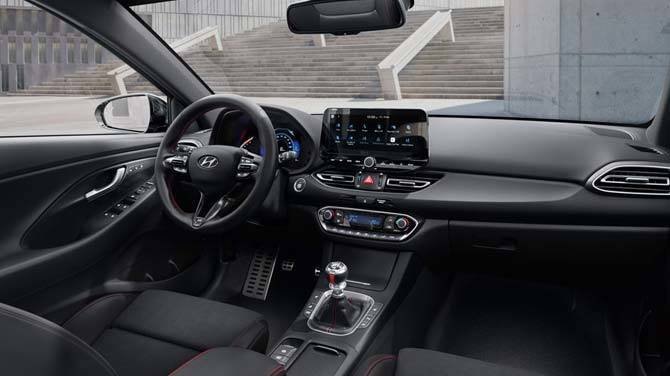 The Bluetooth connectivity keeps you connected at all times, whether you are playing music through your smartphone using Apple CarPlay or Android Auto, or whether you are looking to integrate your smartphone apps with your touchscreen display.
If you opt for a Premium model, you can take advantage of a heated steering wheel, heated seats, a 7" digital cluster, 10.35" touchscreen with real-time traffic updates, wireless phone charging and dual climate control.
The N Line model has more sporty interior detailing, which includes suede and leather sports seats with electric power lumbar support, a leather steering wheel and a ball-type gearshift with sporty metal accents. The Hyundai i30n has a top speed of 155mph and a maximum torque of 392 Nm, ensuring high responsiveness and improved acceleration.
Something that you should always consider is how much boot space you might need. Even if you only go on holiday every couple of years, there are other things that can take up boot space aside from luggage. Pushchairs, even strollers, can take up space, as can your weekly shop or even just the bare emergency essentials you should always have in your vehicle such as blankets, water and first aid kit.
The Hyundai i30 has a 295 litre boot and the 60-40 rear seat configuration, you can increase this space by folding down any of the rear seats.
Exterior
One of the most striking features of the Hyundai i30 is the stylish exterior design. The high gloss black rear spoiler adds that touch of sophistication and sporty feel. It also has its own functionality, allowing the air to flow off the rear of the vehicle, improving fuel efficiency.
The N Line model is ideal for those who want a sportier design, with 18" alloy wheels, body coloured bumpers, black glossy door mirrors, distinctive front and rear bumpers, sports seats, a Black radiator grille with Chrome inserts, a rear exhaust with twin muffler. The N Line also offers a sportier driving experience, with more finely tuned suspension, larger front brakes and 18" alloy wheels as well as performance tyres.
On Premium models, there's full LED rear lights which enhance the look of the vehicle.
Technology
There really is no shortage of technology. One of the main selling points is the satellite navigation system that used 3D maps and turn-by-turn information, all on a handy touchscreen device located in the centre console. If you'd rather view this in your eye line, you can project the display onto the 7" LCD supervision cluster. As well as the sat nav feature, there's real time traffic updates, speed camera alerts and weather updates. This feature is only available on Premium and N Line models.
To make driving the i30 a breeze, the rear parking sensors allow you to navigate into spaces easily and safely. If you opt for a Premium or N Line model, you can also benefit from front parking sensors.
Safety Features
As with all Hyundai models, there's a wide range of safety and driver assist features that come as standard with the Hyundai i30.
These safety features aim to keep the driver, passengers, and other road users safe and to prevent any accidents.
Autonomous Emergency Braking – Utilising a front mounted camera that analyses the road ahead, this feature will automatically apply the brakes if a vehicle or pedestrian is in the direct line of the car.
Forward Collision Warning System – Again, utilising the front camera, this feature will detect a potential collision from an oncoming vehicle, alerting the driver or applying the AEB where necessary.
Lane Keeping Assist System – This feature is ideal for those who will be doing a lot of motorway or dual carriage way driving and will alert the driver should the vehicle make an un-natural stray from a lane.
Blind Spot Collision Warning (Premium models) – A sensor is mounted onto the rear bumper and monitors the blind spot for any potential hazards. If another vehicle is detected in the blind spot and the indicator is activated, the system will alert the driver.
Hyundai i30 Insurance Group
The specification you choose will depend on the amount you pay for your insurance based on the insurance group, but for an SE Nav 1.4L petrol engine hatchback model, you can expect this to sit in group 14, which is in one of the lowest groups, even for a larger car according to moneysupermarket.com.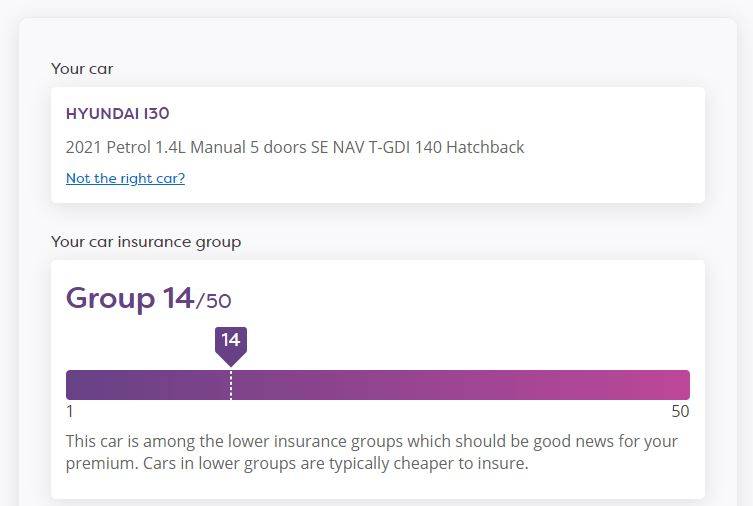 Hyundai i30 Car Tax Cost
Another cost when it comes to choosing a new car, is how much you'll pay to tax your vehicle. For the same specification of Hyundai i30, you can expect to pay around £155 per year.
If you would like to speak to our friendly team about arranging a test drive of the Hyundai i30, you can contact us via email or phone.
Latest News